When it comes to food packaging, one often overlooked yet crucial component is cake paper board. This specialized paper board is designed to provide a sturdy and hygienic packaging solution for cakes, ensuring that they remain fresh and protected during transit or storage. However, not all cake paper boards are created equal, and it is essential to purchase quality boards that meet your specific packaging needs.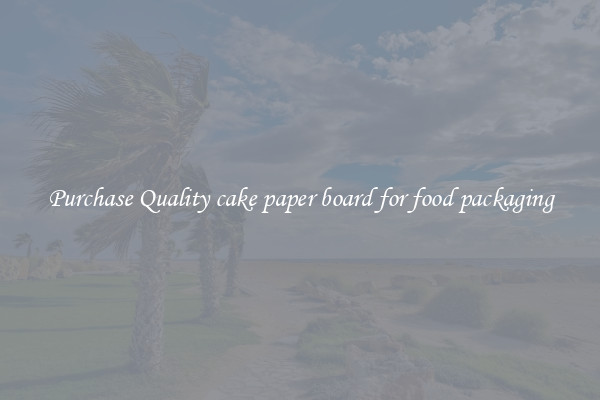 The first factor to consider when purchasing cake paper boards is their strength and durability. Cakes can be heavy, and the packaging needs to withstand the weight without collapsing or losing its shape. High-quality cake paper boards are made from thick and rigid materials that provide excellent structural integrity, ensuring that the cakes remain intact during transportation and handling.
Additionally, the paper board should be grease-resistant to prevent any oil or moisture from seeping through the packaging and affecting the cake's quality. Grease-resistant cake paper boards are coated with a special layer that acts as a barrier, preventing any unsightly stains or sogginess. This is particularly important for buttercream and other types of icing that can release grease over time.
Furthermore, cake paper boards should also be food-safe and hygienic. Ensuring that the paper board meets the necessary food-grade standards is crucial to avoid any health hazards or contamination risks. Look for boards that are made from materials approved by food regulatory agencies to maintain the highest level of safety and quality in your packaging.
Another aspect to consider is the aesthetics of the cake paper board. The packaging plays a significant role in presenting the cake to the customer, and a high-quality board can enhance its visual appeal. Opt for cake paper boards with a smooth and clean finish that will showcase the cake's beauty. Additionally, some boards may come in various colors or designs, providing a versatile packaging option that matches your brand's aesthetic.
Lastly, it is essential to purchase cake paper boards from reputable suppliers that specialize in food packaging materials. These suppliers can offer guidance and knowledge about the best options available in the market, ensuring that you make an informed decision. Additionally, established suppliers often have rigorous quality control measures in place, guaranteeing that you receive consistent and reliable products.
In conclusion, choosing high-quality cake paper boards for food packaging is crucial to ensure that your cakes remain fresh, presentable, and protected. Consider factors such as strength, grease-resistance, food safety, aesthetics, and the supplier's reputation when making your purchase. Investing in quality cake paper boards will not only impress your customers with an attractive presentation, but it will also enhance the overall experience they have with your bakery or business.